Find out more about the key people behind Connatural Scamsters.
ANDY STURM (Director, Writer & Producer)
A German writer, director, and producer, Andy is looking forward to his feature debut Connatural Scamsters.  Although he was a film fanatic early on, it took a while until Andy realized that his place was in making movies. He made detours as a fashion retail manager, photographer, and novelist, before singlehandedly writing, directing, and producing his first short film, BAIL, in 2020. Though working under a low budget and tight schedule, BAIL almost came as a bombshell. It ran on festivals, was accepted by Prime Video, and became the first-ever film shown on Europe's largest film-related YouTube channel. With his infinite love and knowledge of movies and his ambition to become a filmmaker the audience loves, Andy wants to make films that are totally fresh but in the tradition of the great cinema of the past. Andy's strengths as a director are his clear vision, his eye for details, and his approach with actors. He has a meticulous and strict work ethic and likes to be deeply involved in every part of the filmmaking process.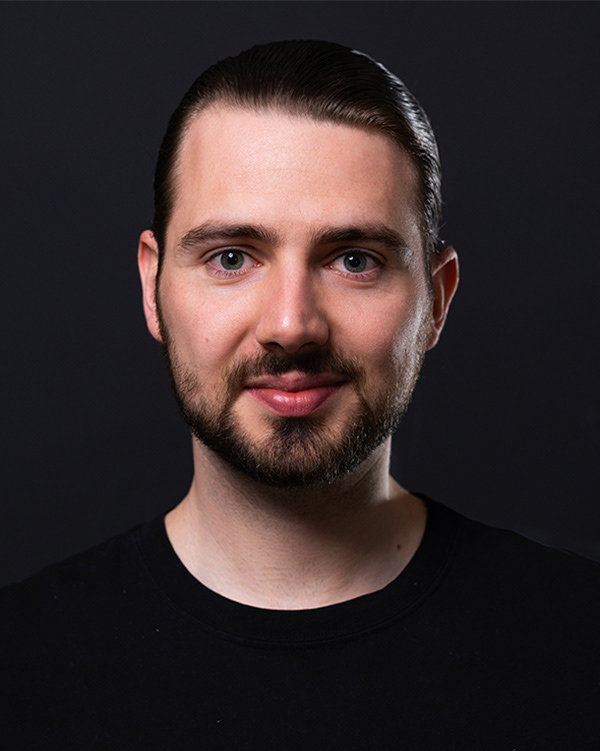 PHILIPPE REINHARDT (Actor & Producer)
A Swiss actor and producer, Philippe is driven by two things – his enormous passion and his ambition to constantly grow. As an actor, he is both gifted and hard-working. He prepares with such great detail, in fact, that he fully emerges with his roles. As a producer, his relentless drive helps him get projects realized. Philippe had his first roles in German television but quickly transitioned to movies, starring, for example, in Til Schweiger's 11/2 Knights or the Swiss film Champions. Since 2012 – following the disaster movie Faktor 8 – he is increasingly cast in international productions. He played in Andrey Malyukov's World War II drama Match and Fedor Bondarchuk's Stalingrad (Russia's 2013 Oscar entry). Playing the lead role in The Groom – Russia's most successful film of 2016 and cult there by now –, Philippe gained notoriety in Eastern Europe. In 2018, he played in yet another Russian Oscar entry: Sobibor, a drama about a German-occupied death camp. Some of his latest projects include the series Ded Morozov and the upcoming US drama The Match. Additionally, he is involved as a producer in some upcoming series.
RUTA KASSA DENEKE (Assistant Producer, Advisor)
 Ruta participates in projects from A to Z in many ways. She began her journey in the film industry, working on the short film BAIL. Talented creatively and organizationally, she not only co-produced it, but she also was the film's costume designer and advisor. Furthermore, she was involved in the editing and color-grading of the movie. Now, her aim is to take the next step and work on a feature film. Her assertiveness and talent to keep track of things make her valuable on each and every film set – and in stressful situations especially. One of her biggest strengths is that she always voices her honest opinion while not demanding to win over somebody come hell or high water. This makes her a great advisor, whether giving feedback for a script, on set, or during pre- or post-production. Driven by her love of movies and dedication to her respective projects, Ruta always has the big picture in mind and does not consider herself too good to give a helping hand at whatever the task may be.